While shopping at Sam's Club I found these Nutty Bars from Little Debbie.  I remember them fondly from my childhood.  I though they would make an adorable Nutty Valentine  for one of my kids classes at school.  For 12 snack packs it cost about $4.  I can have a fun treat for my daughters class for under $8.  Perfect!
My Nutty Valentine
Free Printable
You could also put this printable with a package of trail mix or nuts or Nutter Butters if you don't want to use cookies.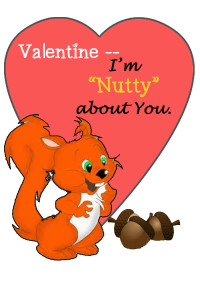 To print of a sheet click on the link and enjoy!
PLEASE follow the following rules for Free Time Frolics printables:

I would love for you to become a follower of Free Time Frolics via Rss, Twitter, Instagram or Facebook. More Free Printable's are coming. You don't want to miss out.
Free Time Frolics printable's are for PERSONAL USE only. You may not re-sell, re-distribute, or claim them as your own.
If posting on the internet, you MUST post a link back to the original post or page.
 Freebie printable's are offered "as is" unless otherwise noted.
Pin, share, use in your home or as a gift.  Enjoy!
(Visited 186 times, 1 visits today)