Making a printable my kids we can use for travel, church or home are always a big hit. My little guy is really into cars, planes and dinosaurs.  And he is always on the go.  I decided to make him these little playmats for on the go. I have made small travel toys in the past like these travel car mat and the travel dino mat.  They have been awesome. But he is enjoying more than dinos and cars so I decided to add a few play ideas. We take them everywhere.  Just the other day we had it while we were at the car dealership. I will be sharing the tutorial for the carry all later  but today I will be sharing a couple of the play mats.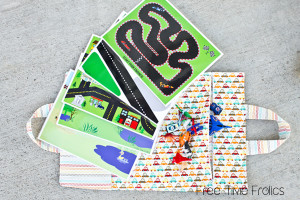 With so many mats I decided to break this post into 3 posts.  2 for printable and one for the carry all tutorial. I will add links as each post is up.
Airport play-mat
The first one is a small airport.  I found some small airplanes at a local party store. They came in a bag of 12.  The print itself I had them printed at a local print shop for maximum color and only about 50 cents each. Then I laminated them. You could also use the Disney Planes micros (aff link) if your guy or gal loves Disney.
Race Track Printable
Because every little guy loves to race his cars. For the cars I use mini micro cars. They are about the size of a quarter. They came from a local store but you can find micro machines at Toys R' Us. So start your engines! Or the micro Disney cars (aff link) are perfect for this track!
I will share the little carry all a in a few posts but If you are not the sewing type then you could print them and place them in a binder with a pencil case for the toys.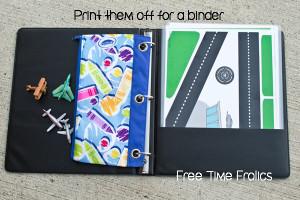 You can print these off for personal use only.  Print them off for your little guy or gal, give them as a gift or to use at church.
Free Printable Downloads
(Visited 64,821 times, 20 visits today)