Usually around the 4th of July we have a small neighborhood BBQ.  My neighbor brought over these amazing cupcakes.  When I asked for the recipe she sent it on over.  When I saw it used a box mix I just about died I had not idea a cake mix could taste so amazing.  So I decided these were totally blog worthy.  Your family, neighbors or party goers will want the recipe!! Check out the recipe below and make a batch tonight!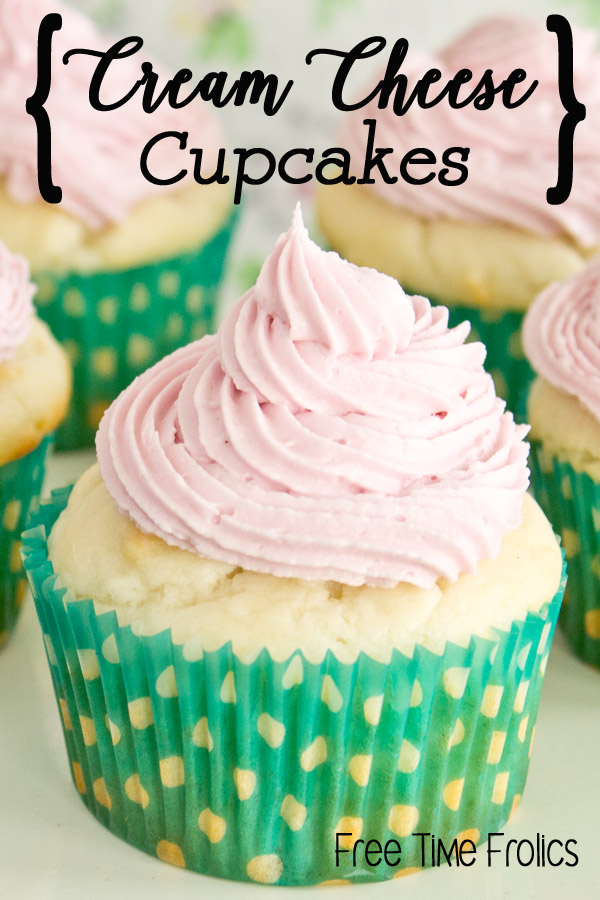 Cream Cheese Cupcakes Recipe
Cream Cheese Cupcakes
Ingredients
8 ounces cream cheese (about 1 cup), softened
2 egg whites
¼ cup vegetable oil
1 box white cake mix
1 cup water
1 t. vanilla
1. Preheat the oven to 350 degrees F. Line two 12 count muffin tins with paper liners.
2. In a large bowl combine the cream cheese, egg whites and vegetable oil. Using a hand mixer, beat the ingredients until combined and creamy.
3. Add the cake mix, water and vanilla and mix until smooth, about 3 minutes.
4. Fill the muffin cups to just below the rim and bake until puffed and golden, about 18 to 20 minutes.
5. Remove from the oven, let cool slightly in the tin then transfer the cupcakes to a wire rack.
6. When cooled, frost with vanilla butter cream frosting (recipe below) or your favorite frosting.
VANILLA BUTTER CREAM FROSTING
1 C. butter softened (2 sticks)
2 lb. powdered sugar
¼ + C. milk
1-2 t. vanilla
½ tsp. Salt
opt: 3oz Cream cheese
1. In a mixing bowl combine the butter, vanilla and powdered sugar. Mix, starting slow, until somewhat combined.
2. Start by adding ¼ C. milk and mix. Slowly add more milk, one or two tablespoons at a time, until the frosting reaches your desired consistency*. I also added 3 oz. cream cheese into the frosting by blending the butter and cream cheese first then adding the rest.
(Visited 195 times, 1 visits today)