Costumes are one of my favorite things to make. Especially if I get to be creative when I do it.  My little miss always has some fun ideas for costumes.  Last year she chose Astrid, from How to train your Dragon.  I was super excited.  Astrid is Sassy, Strong and smart. Just what I want my daughter to be! This is a great costume if you have a daughter and a son to make your dragon!
To pull this costume off I used this image of Astrid to base her costume.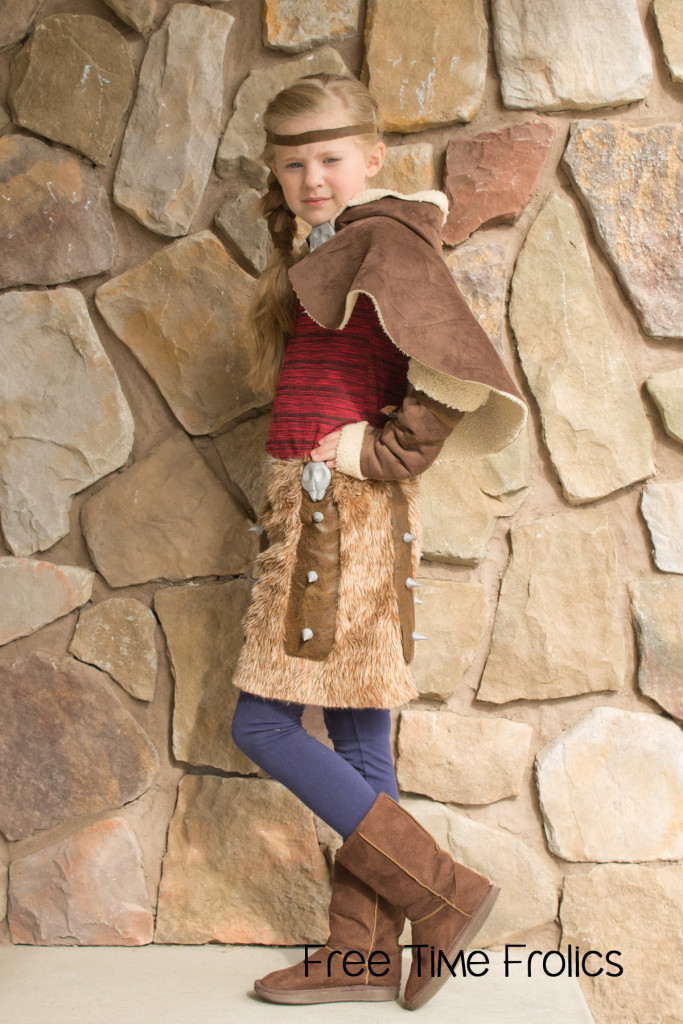 This costume is pretty basic skirt and shirt but the details make all the difference in the world.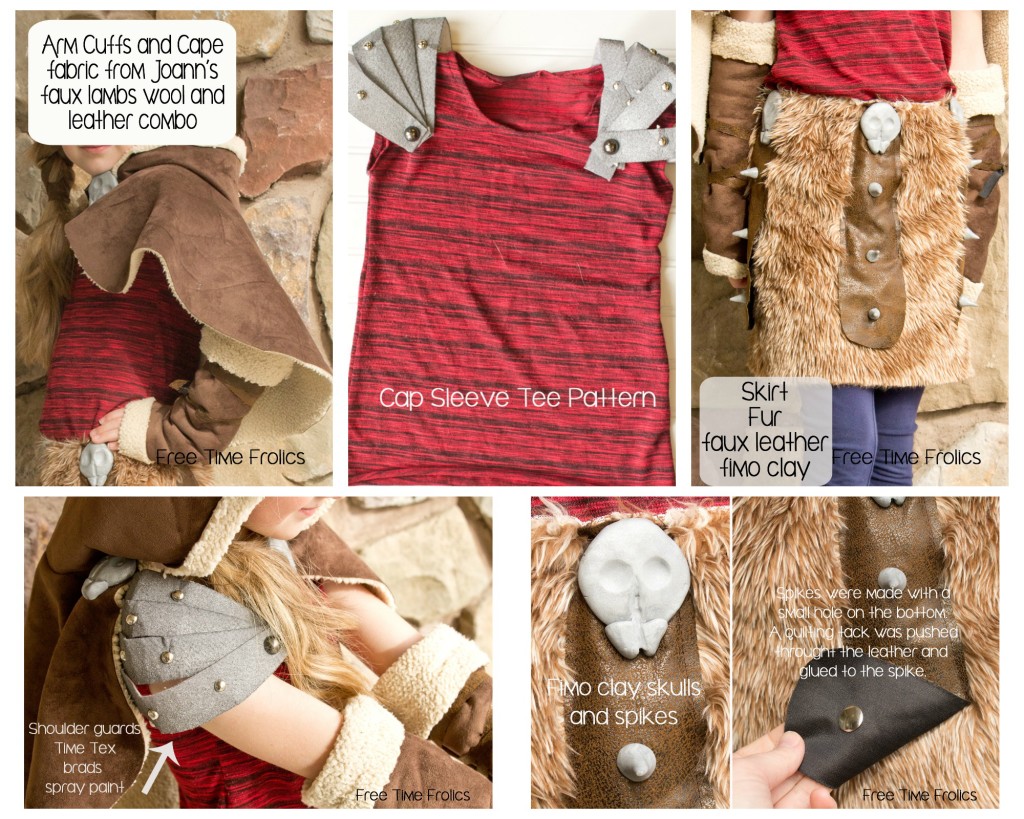 For her Astrid costume I bought:
brown fur/ leather combo, silver fimo clay, red knit, faux brown leather, upholstery tacks, Tim Tex, brads
I made a basic skirt with an elastic waist band.  I used faux leather to create the flaps.
Before I sewed down the flaps I created spikes  with the silver fimo clay. Form them into a round triangle spike.  Before you bake them use a tooth pick or skewer to make a hole in the flat side.  Then bake according to the directions.
While spikes are cooling measure your leather flaps for spike placement.  Since I only had 13 inch in length  to work with I spaced my spikes about 2 inches apart.  I stuck my upholstery tacks in the faux leather strips from the backside.  Using E-6000 glue I glues my spikes to the upholstery tacks.  Let them dry overnight.  Then I sewed the flaps down to the fur.
For the skulls on the skirt and cape I made them from fimo clay as well.  I started with a round ball of clay and formed them to the shape I wanted.  Fimo clay is just like working with stiff play dough.  Once you get the clay the way you want it you can bake it and use it.
For the cap sleeve tee I use my pattern you can find here in my Etsy Shop.   I used a simple red fabric I found at Joann's.
For the shoulder guards I used Tim Tex or Peltex.  It is used to stiffen the inside of bags.  I spray painted the time tex and let dry.  I cut it onto strips and pushed brads through it.  They took them together and used an upholstery brad through the ends and created a fan like look.  Then pinned it to the shirt.
For the cape I googled cape pattern and found one that I could recreate.  For the arm sleeves I measured her arms and doubled it.  Then cut them and did a single straight stitch down the long edge.  after the stitch I decided where her thumbs would go and un-stitched a 1 inch section so they were like a finger-less glove.  Wrap some faux leather around them to keep them on and you are done.
I braided her hair to match Astrid.  I used leftover strips of faux leather to braid into her hair and make a headband.
Ti finish off the costume I used my daughters brown boots and a pair of navy blue leggings.
We both love how it turned out.  This costume was pretty easy to make and had a minimal cost.
On a side note.  You may not want to make spikes for the back of the skirt.  My daughter wore  hers to school for the carnival.  Her teacher was asking her to sit down.  Her reply was "I can't this skirt is a pain in my Butt."  Her teacher laughed until she just about peed her pants.  She also allowed her to stand at her desk that day.
Are you going to Disneyland for Halloween?  This costume would be an amazing outfit to wear around the park.  Astrid is the perfect Tomboy costume!  If you are thinking about heading to Disneyland this year, be sure to check out the deals and dates for Halloween at  Disneyland on Getaway Today!
Or here are the some great deals for Disneyland 2017! I know my family is just dying to go and see the new star wars stuff and Harry Potter too! Plus you can start your layaway program for just $125.  So if you are going, use getaway today  to get your trip started!
(Visited 712 times, 1 visits today)