This years teacher appreciation week was a huge success!  We were all Western and cowboys!  To make things fun I willed the week with old time western food, treats and villians!  
I started off my week with wanted posters for all the teachers.  The pictures were taken a month earlier so I would have tome to create the posters.  I have a local print shop that is so good to me.  They printed them at 11×14 in color for $1 each!  It was a total bargain.  Normally my room parent makes the posters but this year I had them bring a dish for my luncheon.   The posters were hung around the school.  The teachers and kids alike loved looking at them!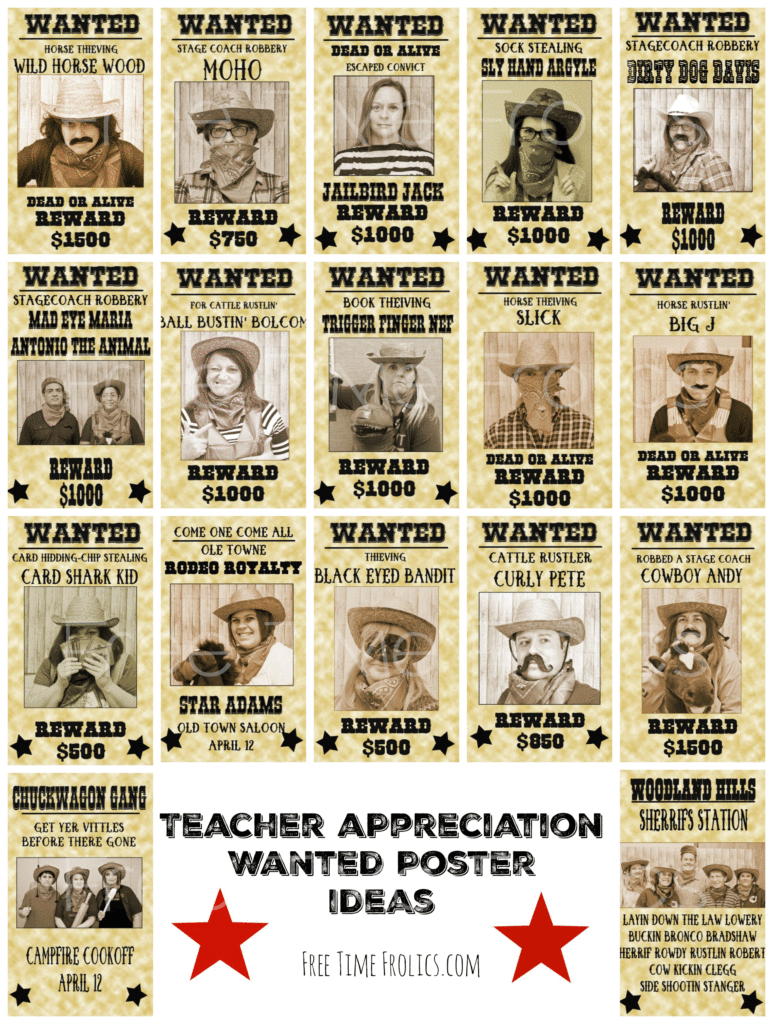 I started off the week with a small brown gift bag with a few gift cards and a Reusable cups for alter in the week with a note detailing the week.  Here is my letter I sent out to all the staff and teachers: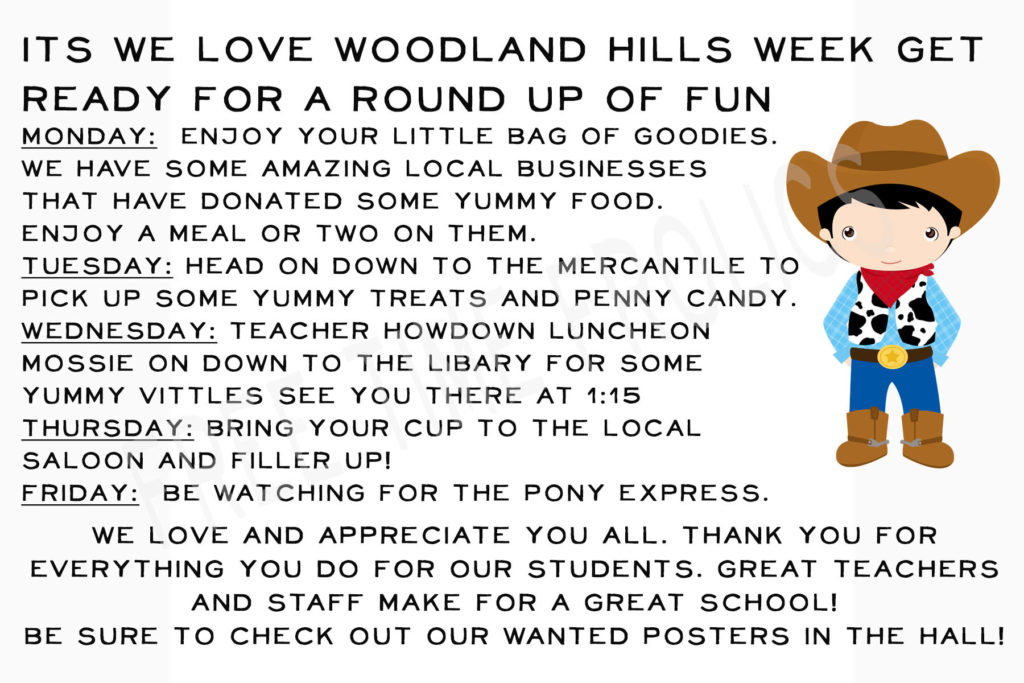 I purchased a western digi clip art set forma gal on Etsy.  Here is her site: ClipArtopia I used hers for all of my flyers.
Through the week the kids had something they could do or bring for their teachers. Here is the flyer that went home.  One thing we did was include a box top drive during the week.  At the end of the week we had a silly string shoot out with the sheriff.  The top three classes with the most had their teacher participate in the shoot out with the principle.  They kids loved it!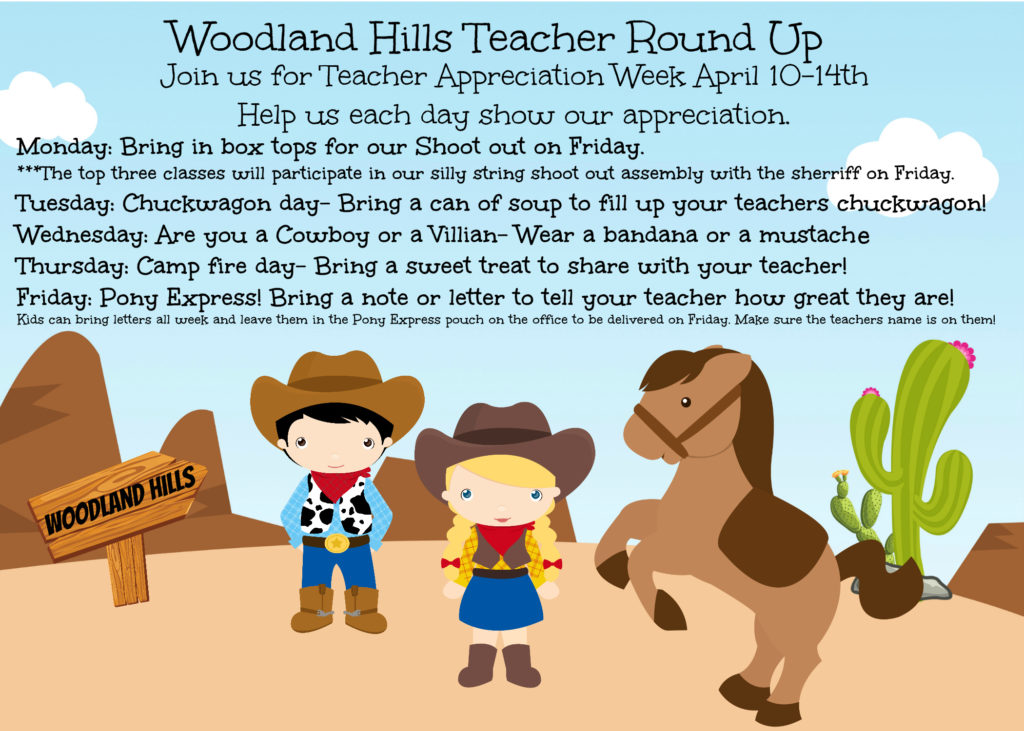 Mercantile day treats:
I got most of my treats at the store except for the cow tails. Those I got on Amazon. I also included fresh fruit a veggie tray and a parent made cowboy caviar.
Cow Tails (aff Link)
Licorice sticks, Swedish fish, Taffy, root beer barrels, butterscotch candy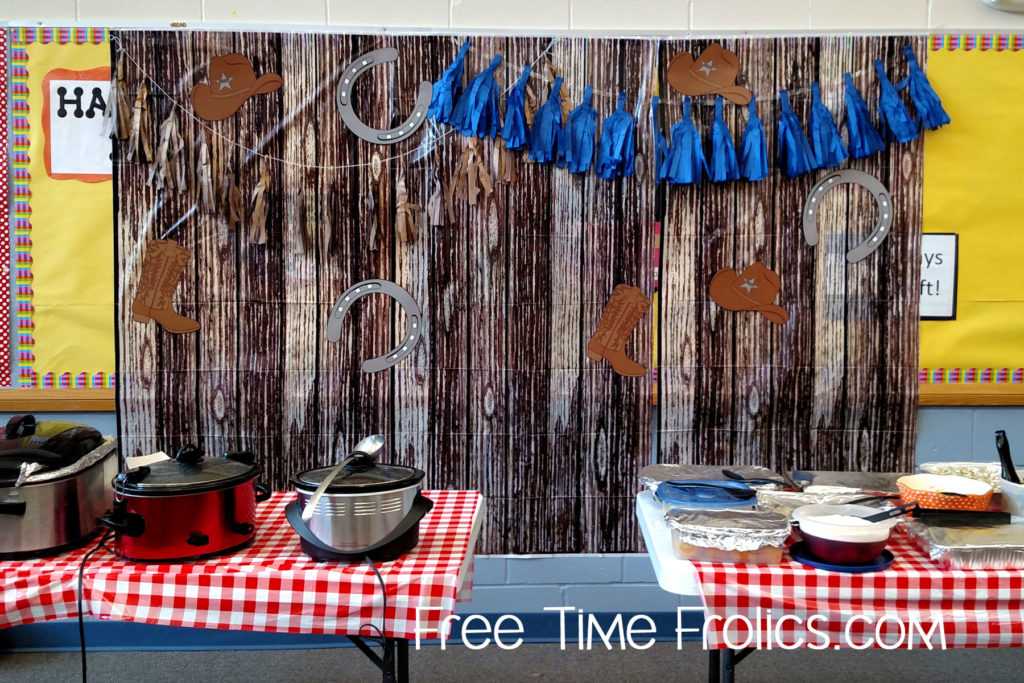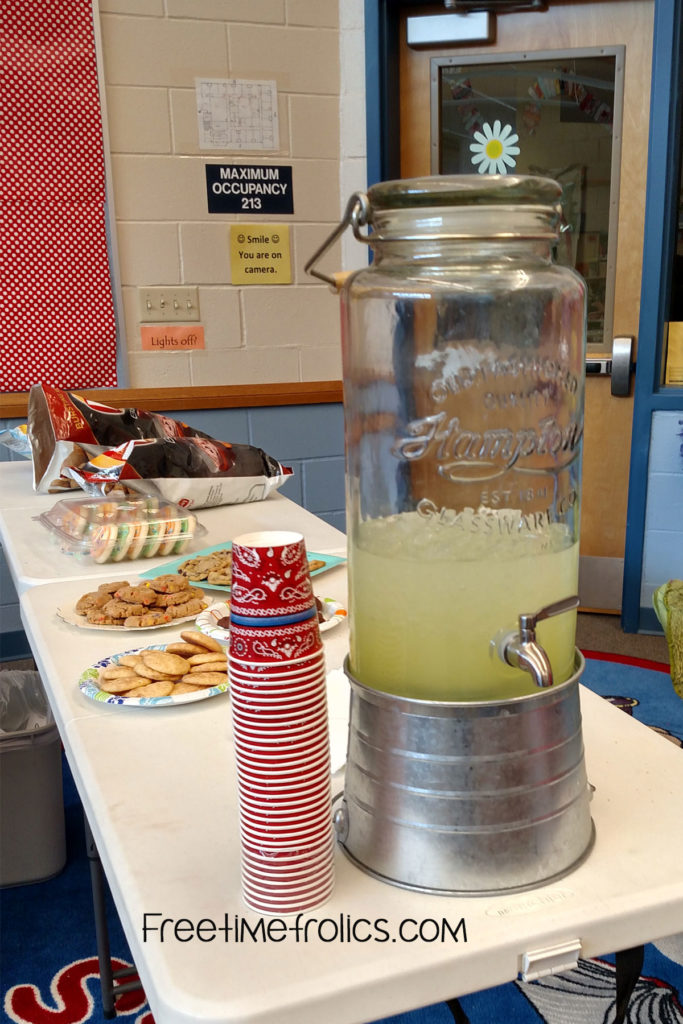 For my luncheon I wanted a chuckwagon style dinner so I made sure to have all the cowboy fixins for dinner with western decor.  My luncheon menu was as follows:
BBQ chicken, corn bread, baked beans, green, fruit and potato salads, coleslaw, cookies and lemonade.
Luncheon supplies:
Decor
back drop
tassle banner
western die cuts
silver buckets
jars
Saloon day
Soda 2 liters
For our last day we had the pony express come by.   The kids could write letters to their teachers and deliver them.   I made a note for the teachers with trail mix and a free ice cream coupon to the note and delivered them to each teacher.
This week was so much fun.  My teachers loved it.  I hope they felt spoiled and loved.  What are some of your teacher appreciation ideas?
(Visited 319 times, 1 visits today)