This year for the holidays I wanted to try something new for the family. A fun pre Thanksgiving or Christmas holiday breakfast.  We discovered a  love of  crepes a couple of years ago, but I wanted to change them up a bit for the holidays.  I found some amazing Organic products at my local Albertsons and just had to give them a try.
I wanted to start with the best products so I headed out to my local Albertsons.  The more I shop at Albertsons the more I am learning about some of the best organic products around.   I love their O 'Organics® product line, which are available in my area exclusively at Albertsons, to help keep my family healthy, well fed and doesn't break the bank.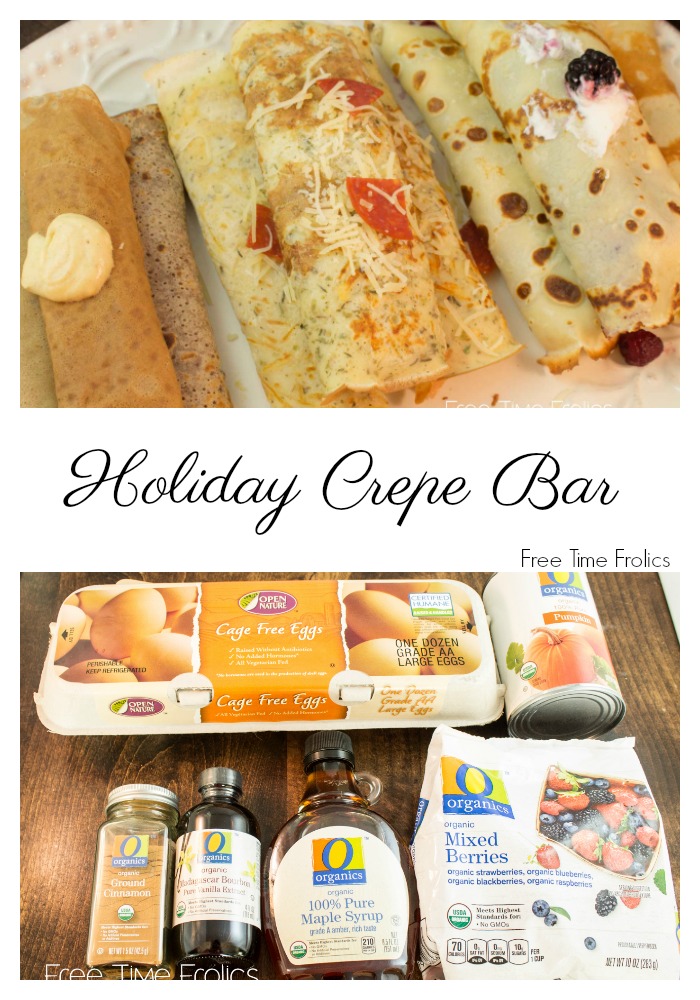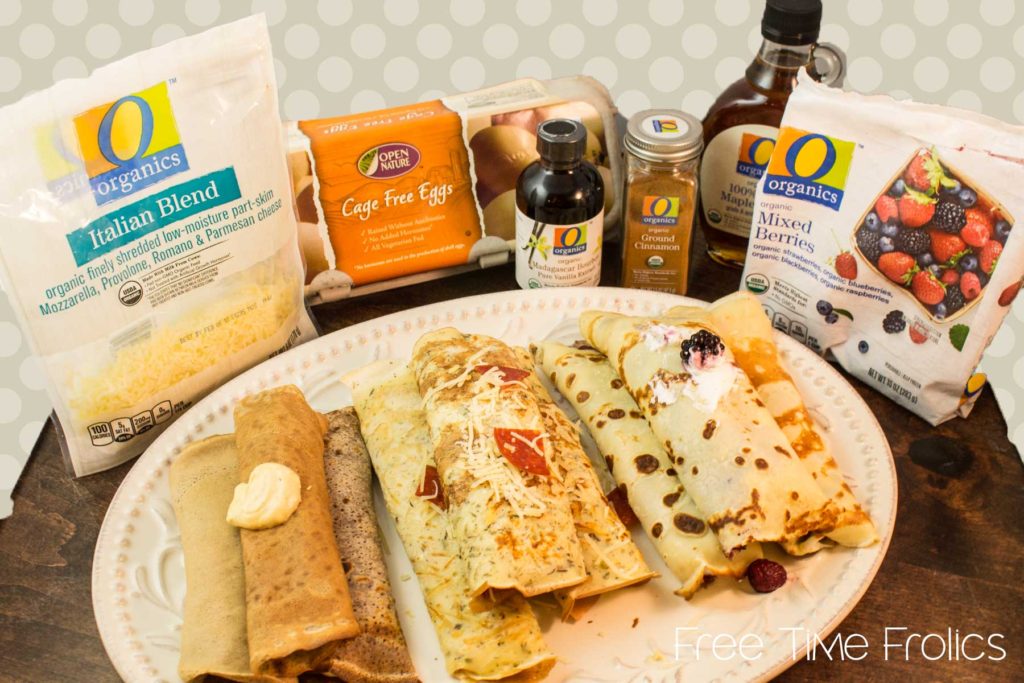 started with my cage free Open Nature ® eggs. (Side note: I love the bright yellow yolks from cage free eggs have.  I can just see the nutrition in them.)  Using a basic recipe for the crepes, I then added my own ideas to make them creative and different.
For my first crepe I made a French Toast crepe with pumpkin cream. I used O Organics Cinnamon and Madagascar Vanilla. I love the smell when I crack open the bottles. Fresh cinnamon and the amazing aroma of Madagascar vanilla.  If you haven't smelled it you are missing out! Depending on how much flavor you want, you can add as much or as little vanilla and cinnamon as you want.  I added the amounts I like to the recipe variations below.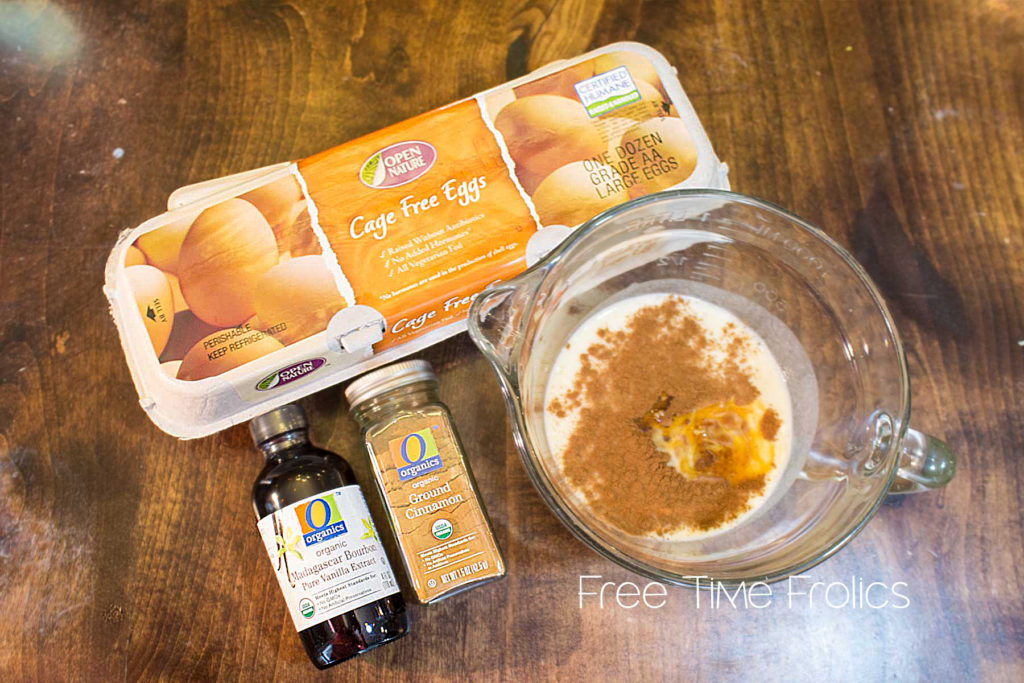 For the cream filling I used O Organics® pumpkin, Madagascar Bourbon vanilla, cream cheese, and powdered sugar.
Next up was a twist on Pizza, because brunch can mean a lot of things.  For this recipe I used the basic crepe recipe and added Parmesan cheese and Italian Seasoning ingredients for a savory treat.  The Parmesan cheese melts into the crepe and adds a savory flavor. Ingredient amounts are added below.  Cook them up and your favorite pizza toppings.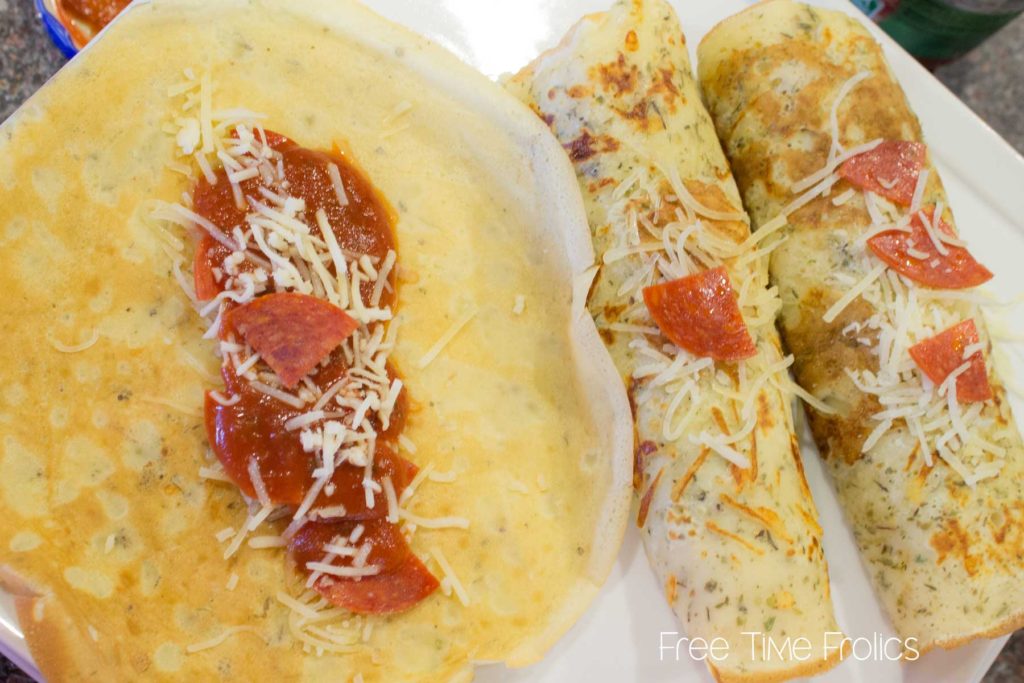 I added Pepperoni, O'Organics® Italian cheese and spaghetti sauce. They are heavenly.  A light take on delicious pizza flavor.  I took a few to my neighbors to have some taste testing.  All of them asked for the recipe.  I think these would even be a great appetizer for a football game or New Year's party!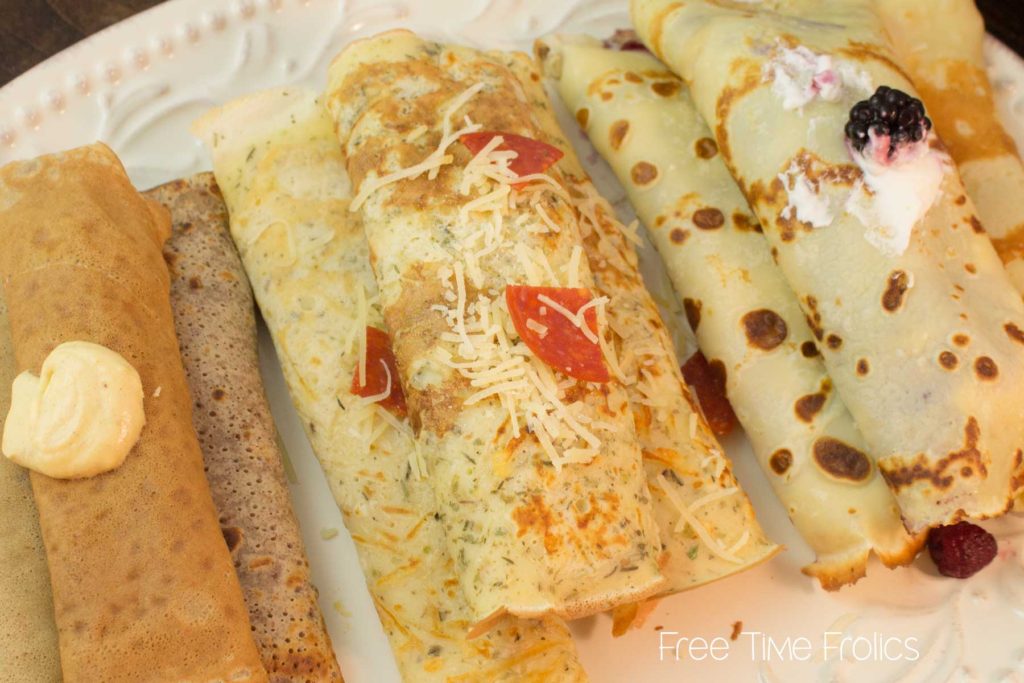 My last crepe is just a basic crepe filled with freshly whipped cream and fruit using' Organics Mixed berries. But you could also use peaches or individual berries.
Fresh fruit is hard to find out of season but this mix of O Organics mixed berries was filled with berry goodness I can get year round.  Then whip up some fresh cream to top it off!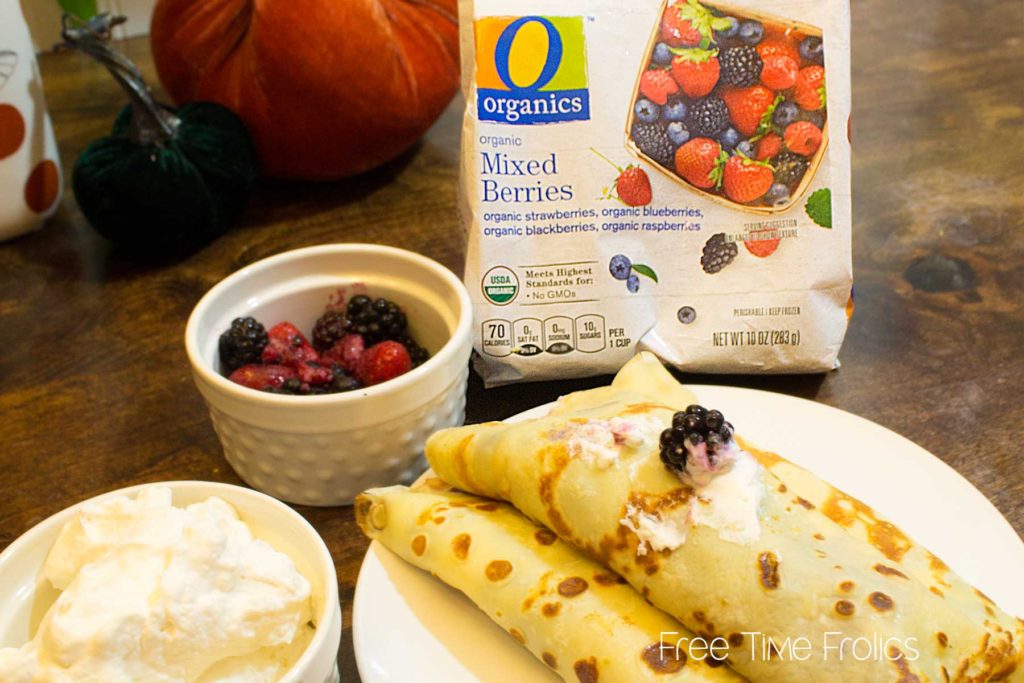 Other options for your crepes could be to add scrambled eggs, different cheeses, syrups or breakfast meats. Crepes are a great alternative to tortillas.
And don't forget to fancy up your table with some beautiful debi lilly designTM flower bouquets.  You can buy a bundle or pick and choose your flowers.
Crepes Recipe and variations
Holiday Crepe Bar
Prep time:
Cook time:
Total time:
Ingredients
2 eggs
1 C. Milk
1t. vanilla
2 T. sugar
¾ C. Flour
pinch of salt
Butter for cooking
Instructions
Blend all ingredients together in mixing bowl or blender. let sit at room temp for 30 minutes.
Heat frying pan on med high. Add small pat of butter to pan. Pour 18-14 cup batter to pan, swirling pan to fill the bottom with batter. Crepes should be thin and will cook quickly. Cook about 1 minute on each side. Slide crepe out of pan and repeat until all the batter is gone. Add toppings to taste.
variations:
Italian crepes add
/4 C. Parmesan cheese by O'Organics
T Italian seasoning by O' Organics
French Toast crepes add
t. Cinnamon by O'Organics
t. vanilla (additional)
Pumpkin spice Crepe add
T Pumpkin Puree by O Organics
T Pumpkin Pie Spice by O Organics
/8 C flour (additional)
I buy my

O

Organics and Open Nature products at my local Albertsons stores, and you can also find them at all of the Albertsons Companies family of stores, including Acme Markets, Safeway, Jewel-Osco, Vons, Pavilions, Randalls, Tom Thumb, Shaw's, Star Market, United Express, United and Carrs/Safeway. Visit Albertsons.com to find a store near you and discover more meal prep tips and recipe ideas." –

To get more information ab out Albertsons or

O

Organics products please check out their social media channels!

Products were provided for me but the ideas and recipes are all my own creations.
</ul
This is a sponsored conversation written by me on behalf of Albertsons Companies. The opinions and text are all mine.
(Visited 64 times, 1 visits today)